Russian TV presenter hopes revealing his HIV status will promote tolerance
Pavel Lobkov calls for Moscow government to fight 'social phobias' and medical ignorance amid sharp rise in HIV and Aids cases.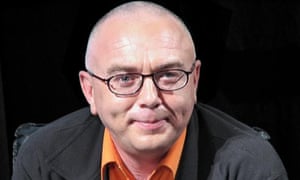 Russian TV host Pavel Lobkov. Photograph: Internet
Russia is struggling with an HIV epidemic, but you could be excused for thinking that the problem did not exist at all. Sex education and HIV and Aids prevention are not topics for schools, and public service advertising and media coverage is rare. Even many healthcare professionals prefer to avoid the topic.
But while Charlie Sheen-style HIV revelations by celebrities are also unheard of in the country, this week a television presenter, Pavel Lobkov, declared that he was HIV-positive during a live broadcast on TV.
Lobkov and activists said they hoped that his statement, broadcast by the small independent channel TV Rain, would jumpstart public discussion about the issue, as the number of new HIV cases skyrocketed.
"It's not the done thing to talk for real [about HIV], and inRussia it's a real problem," Lobkov said. "Maybe after this shock there will be a discussion about what these medicines are, and are there enough doctors specialising in this, is their knowledge adequate to treat HIV infections?"
Lobkov said during the broadcast that he had discovered he had HIV in 2003 while working for the NTV channel. Immediately after he was diagnosed his doctor refused to treat him, telling him he was being excluded from the NTV insurance programme.
Since then Lobkov had had trouble finding treatment for mundane conditions. He said it took him about a year to find a dentist willing to perform an implant procedure after several told him his HIV status would cause complications, despite research showing such concerns to be baseless.
According to Lena Groznova, an activist at the HIV-prevention group Andrey Rylkov Foundation, such ignorance about HIV is common even among healthcare workers, due to the lack of public service information. She said public perception of HIV was outdated and associated the condition with a "quick death". Widespread disapproval of gay relationships and drug use also played a role.
"Few people from the general population know that a therapy exists that allows people to support their [HIV] status. Even among specialists we run into, police, doctors, have a stigma and fear of HIV people that doesn't match the threat, which is none," Groznova said.
Lobkov said several doctors had contacted him in recent days to tell him about HIV-positive patients who did not seek treatment or register for state-provided medicine for fear that their infected status would have a bad impact on their professional and personal lives.
Russia is one of the few countries where the number of HIV cases is rapidly growing. According to the federal Aids centre, at least 986,657 Russians were officially registered as HIV-positive as of 1 November, and the number of new cases had risen by 12% this year.
A consumer oversight agency official in St Petersburg said last month that Russia faced an HIV epidemic. But while the government has increased spending to treat Aids, state policy on fighting HIV has focused on abstinence from sex and drugs, rather than harm reduction programmes.
A message from the Ryazan city government for World Aids Day on Tuesdaydeclared that "even one single sexual contact, even one dose of drugs, can cause HIV infection".
The state-run Russian Strategic Research Institute said in a report, in October, that rather than adopting western methods, Russia needed to develop an HIV and Aids prevention programme to "reflect real national interests".
Opioid substitution treatment with substances such as methadone, which aims to help users gradually lose their addiction and is frequently used in the west, is illegal. The Andrey Rylkov Foundation is one of the few groups that hands out clean needles and condoms to at-risk groups such as drug users.
Although the Moscow city Aids prevention centre recently began an advertising campaign around the slogan "Friendship doesn't transmit HIV", it was not enough, Groznova said.
Lobkov said: "The government can fight social phobias, it should have information campaigns on tolerance, acceptance. If there will be tolerance, people will go do [HIV] tests, then they will go [to] therapy, and the epidemic will start to die."
Alec Luhn
Если вы нашли ошибку в тексте, выделите ее мышью и нажмите Ctrl+Enter