Football stars promote HIV prevention in China
Two major stars of the footballing world have joined forces to encourage young people in China to get informed and protect themselves from HIV. UNAIDS Special Ambassador for Youth and China-Africa Collaboration, Gervinho, and UNAIDS National Goodwill Ambassador for China, Shao Jiayi took part in an event with Chinese media called Sports For Change which was moderated by another UNAIDS National Goodwill Ambassador, the television personality, James Chau. The Executive Director of UNAIDS, Michel Sidibé, also attended the event in Beijing.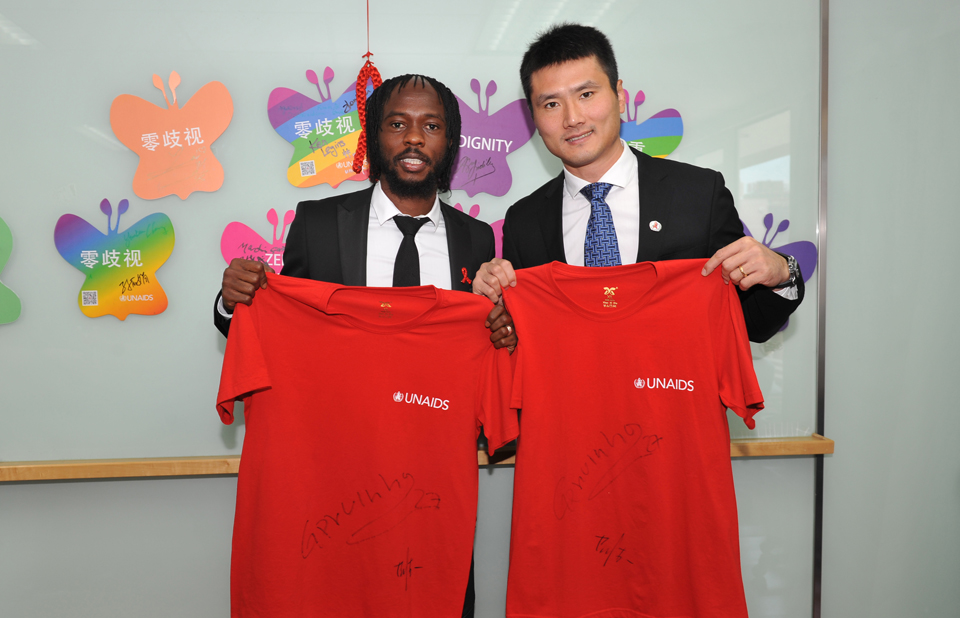 The event on 26 July honoured Gervinho in his new role. The football star, whose full name is Kouassi Gervais Yao moved to China in January 2016 to play for the Chinese Super League team, Hebei China Fortune. Originally from Côte d'Ivoire, Gervinho is already active in promoting HIV awareness and prevention to young people in Africa and will expand this work in China.
Shao Jiayi has actively used his popularity in China to speak up on issues surrounding HIV, highlight the challenges faced by people living with HIV in their everyday lives and encourage young people to take up leadership roles in the AIDS response.
Mr Sidibé, who is on a five-day visit to China, thanked the two football stars and Mr Chau for their continued efforts to reduce the impact of the AIDS epidemic in China and around the world. He also underlined how new HIV infections had to be stopped and stressed the role that Gervinho and Shao Jiayi could play in raising HIV awareness among young people.
At the end of 2015, there were 3.9 million young people aged 15 to 24 living with HIV and 670 000 new HIV infections among this age group.
QUOTES
Michel Sidibė UNAIDS Executive Director: "As a big football fan, I know how Gervinho and Shao Jiayi can take the prevention message everywhere they go in China, Africa and the world. When the champions speak out on HIV prevention, young people listen and the message gets through."
Gervinho UNAIDS special ambassador for youth and China-Africa collaboration: "I am proud to continue supporting Michel Sidibė and the work of UNAIDS on their mission to end the AIDS epidemic by 2030. Football is a powerful platform which unites and attracts people from all walks of life. I want to use the game to help spread messages about prevention – I want to empower people to make smart choices for themselves and their loved ones."
Shao Jiayi UNAIDS national goodwill ambassador for China: "It is great to be part of the UNAIDS team. I am working to ensure that young people in china live healthy lives and that includes knowing how to protect yourself from HIV."
Photogallery
Если вы нашли ошибку в тексте, выделите ее мышью и нажмите Ctrl+Enter